.
BRAHMAPUTRA TOURS
TOUR 5: NAGALAND, STATE OF THE HEADHUNTERS ( 14 DAYS )

Come and visit tribal villages, see Naga men with their headhunter tattoos and admire houses decorated with mighty buffalo and mithun horns.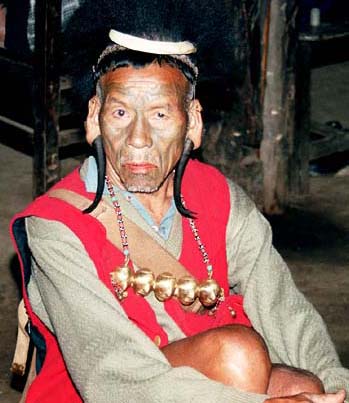 Naga chief with attributes of a headhunter
Day 1: Arrival at Dibrugarh airport. Transfer to hotel in Sibsagar. Afternoon local sightseeing. Overnight hotel.

Day 2: Full day sightseeing at Sibsagar. Visit Shiva and Vishnu temples and the ruins of the Ahom kingdom – memories of a time when the Ahom kings ruled Assam. Overnight hotel in Sibsagar.

Day 3: Today we are driving from Sibsagar to Mon. First we will pass the Assam tea gardens before we enter Nagaland. When reaching Mon, we are in the heart of the Konyak tribal area. Here former headhunters with their tattood faces and big horns in their ears can still be admired. In the afternoon visit of Angh´s house at Chui. Konyaks are still ruled by heredetary chiefs known as Anghs. Overnight Mon.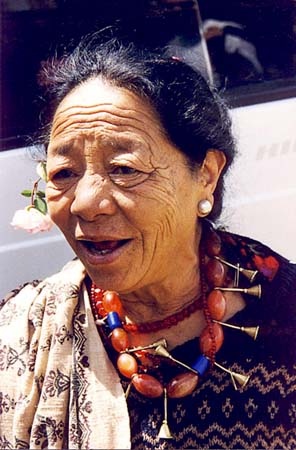 Naga lady with typical necklace
Day 4: Full day visit of Konyak tribal villages. First we will drive to Shangnyu, which possesses a unique piece of woodcarving. It is a 20 feet long and 12 feet high fertility shrine made of one piece of wood. In the afternoon you will visit the traditional Mon Village. Overnight Mon.

Day 5: Full day drive through beautiful countryside to Mokokchung. This town is the cultural centre of the Ao Naga tribe. Overnight Mokokchung.

Day 6: Today whole day exploration of Ao Naga tribal villages. In Impur you can walk around the village on the old missionary´s path and visit the local museum with tribal exhibits. In the afternoon we will visit Longkhum, a vanguard village in the days of headhunting. Finally we will go to Ungma Village, the oldest and biggest Ao village. Overnight Mokokchung.

Day 7: After breakfast we will drive to Tuensang. In this area the Chang, Yimchunger, Khiamungan, Sangtam and Phom Nagas live. In the afternoon visit Tuensang Village. Overnight Tuensang.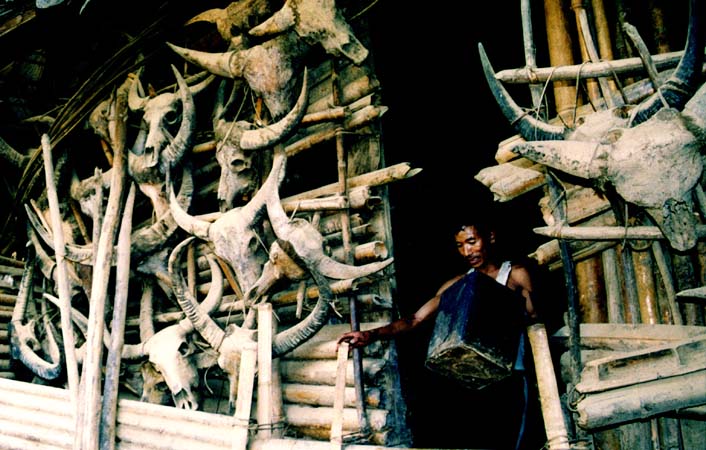 Buffalo and mithun horns on a house in Pangsha
Day 8: This day you will go to tribal villages in the region of Tuensang. It is an area, where you can also see many mithuns. The most important and still very traditional villages will be Noklak and Pangsha. Overnight Tuensang.

Day 9: After breakfast we will drive to Wokha. Near this town there is Longsa Village, which is inhabited by the Lotha tribe. Here Longzu (monoliths) are erected that remind of the merits of some ancestors. Thereafter we will continue our drive to Tuophema Village, where you will attend a cultural show in the evening. Overnight Tuophema Village.
Day 10: In the morning you can trek for some hours in the mountains near Tuophema (optional). In the afternoon we will drive to Nagaland´s capital Kohima. In this area you will find Angami Naga tribes. Overnight hotel in Kohima.
Headhunter on the town gate of Kohima
Day 11: In the morning sightseeing in Kohima. In Kohima you can still find the old town gates with their carved motives of headhunting. Another interesting sight is the local market and the war cemetery. In the afternoon visit Khonoma Village. Here the Angami Nagas fought a fierce battle against the British, who came in an expedition to these Naga hills in 1879. Overnight hotel in Kohima.

Day 12: Today you can make an easy trek in the paddy fields south of Kohima. Visit two villages of the Southern Angami tribe. Overnight hotel in Kohima.

Day 13: In the morning we will drive to Dimapur. Here you can see ruins from the Kachari Kingdom, that was established before the Ahom invasion in the 13th century. In the afternoon 13 km drive to Diezephe Craft Village (woodcarving and weaving). Here you can buy some final souvenirs. Overnight hotel in Dimapur.

Day 14: Transfer to airport for departure.

.
Price: On request
.
Price Includes

· All transfers as per itinerary.

· Accommodation on twin share basis.

· All meals and mineral water.

· Local tour as per itinerary.

· Accompanying English speaking guide.

· Government fee for Nagaland

.
Extras

Personal expenses.